THE NEW YORK TIMES, WEDNESDAY, MARCH 27, 2002

ARTS ABROAD
Larry Rohter
From Brazil's Backlands, a Master of a Folk Tradition

BEZERROS, Brazil—For an artist whose work has been exhibited in the Louvre and the Smithsonian Institution, Jose Francisco Borges labors in humble surroundings. His studio occupies a corner of a drafty adobe warehouse that has crumbling walls, smells of printer's ink and lies just off a dusty highway here in the arid interior of northeast Brazil.


Then again, nothing about Mr. Borges's background is conventional. After dropping out of school at 12, he was an herb seller, a bricklayer, a farmhand, a carpenter and a potter before discovering woodblock prints, the medium that has made him one of Latin America's most celebrated folk artists and his simple workshop a magnet for collectors and curators.
Working with just a knife and a chunk of wood, Mr. Borges proves that "low-level technology often yields very powerful, moving and sophisticated results," said Marion Oettinger, director of the Nelson A. Rockefeller Center for Latin American Art at the San Antonio Museum of Art. "Thanks to Borges and others like him, the popular graphics tradition is alive and well in Brazil in a way that you don't see in other countries."


From Dürer and other European artists of the Renaissance to Hokusai and Hiroshige in Japan, woodblock printing has an honored place in the history of art. Early in the 20th century, Picasso, Munch and others helped revive and extend the form.


The woodblock prints of northeast Brazil began as an offshoot of a folk art known as literatura de cordel, or string literature. Since the l9th century, unlettered folk poets have roamed the remote backlands of this region, which is larger than Alaska and home to 50 million people. They recite elaborately rhymed verses about real and imaginary events and characters, like the Mysterious Peacock of folklore, and sell the same poems, transcribed, to an attentive peasant audience.


"That's how I started, hawking my poems at markets and fairs," Mr. Borges said in his workshop, which is dominated by an old-fashioned handpulled press and whose walls are decorated with the hand-carved woodblocks he uses to make his prints. "No one ever taught me how to do that, but I've got more than 200 cordel titles to my name, and I'm still writing them."


Originally the prints illustrating the poems were small and used only as covers for the poets' chapbooks, which vendors hung from lines of rope. But in the 1960's Mr. Borges and others realized that a market was developing and that by enlarging their black-and-white prints to folio size or larger, they could have a freestanding art form.


At first, sophisticated Brazilians in cities like Rio de Janeiro and Sao Paulo regarded the regional prints, called xilogravuras in Portuguese, with disdain. Now, though, such works are increasingly valued, both in Brazil and abroad.


"Whether dealing with sacred material, local politics, culture heroes or folklore in general, the perspective these artists offer is something really special and wonderful," Dr. Oettinger said. "These are vibrant artists who work confidently and purely and remain true to their subject matter."


More than a score of woodblock artists, most of them concentrated in the northeastern states of Pernambuco and Ceara, practice the form. But Mr. Borges, 65, "seems to be the star who has risen above the rest," said Barbara Mauldin, curator of the Latin American collection at the Museum of International Folk Art, a branch of the Museum of New Mexico in Santa Fe.


"His sense of composition is superb, and his imagery is bold, with such a strong and informative narrative message, one that is very humorous and lively," she added. "My whole house is full of his prints. He is just fabulous, a genius really."


Mr. Borges's appeal is evident just from the whimsical titles that he often gives his bold, naïve prints, which sell for less than $20 at his studio here but can fetch hundreds of dollars at galleries in the United States, Europe and Japan. His subjects range from slices of local color, like "The Hillbilly's Honeymoon" and "The Goat Herder," to fanciful images like "The Woman Who Put the Devil in a Bottle" and "The Monster of the Backlands."


"I carve what I see, not just legends and imaginary things that come to my mind, but also scenes from daily life or working in the fields, things that are linked to religion or society," Mr. Borges said.


As befits a folk art, woodblock printing often attracts entire families. Mr. Borges's brother Amaro and cousin Joel are also highly regarded masters of the form, as is his adopted son, Jose Miguel da Silva.


"I always wanted to learn," Mr. da Silva, 39, said of the art. "It seemed so beautiful to me, and now that I do this for a living, I love it even more. I But I still consider myself my father's pupil."


Mr. Borges speaks especially highly of an eccentric, retiring poet and artist named Jose Ferreira da Silva. (He is not related to Mr. Borges's son.) Using the name Dila, he consistently turns out brilliant and disturbingly apocalyptic prints. Seeming oblivious to worldly concerns, he barely ekes out a living by running a small print shop in Caruaru, a market town 25 miles west of here.


"Dila is unique in many ways, considered by traditional collectors to be someone very, very special," said Candace Slater, author of " Stories on a String" (University of California Press) and a professor of humanities at the University of California at Berkeley. "He is a dreamer whose imaginative life is totally caught up in a vision of the Northeast that is populated with heroes and outlaws. He is like van Gogh when he gets on a I sunflower kick, and you can't get him off it."


Mr. Ferreira da Silva, 64, admits that he is obsessed with Lampião, a Robin Hood type of bandit who was hunted down and killed by police in 1938, and Padre Cicero Romão, a priest who lived around the same time and is now regarded as a saint.


"My work is full of strange and frightening things, but I am a religious man, and so I believe in dreams and signs," he said. "That's how the ideas come to me. The themes are always the same because that is what people want to buy."
As its popularity grows, the woodblock print art form continues to evolve, sometimes to the discomfort of collectors. Mr. Borges now makes, multicolored prints and has recently, begun working with marble. He also does illustrations for books and is stamping his designs on T-shirts.


The medium also continues to serve practical purposes. A recent exhibition of northeastern woodblock prints at a museum in São Paulo included record album covers, newspaper advertisements, logos for businesses, political campaign posters, labels for beer and soft drinks and fliers for restaurants and taverns.


Much of the innovation in the form is coming from a younger generation of artists, including Stênio Diniz, Francisco Correia Lima, Hamurabi Batista and Erivaldo Ferreira da Silva (who is not related to the other da Silvas mentioned). To the experts, these artists' activity suggests that the woodblock print tradition is likely to remain fresh and vital.


"The younger artists live in a hybrid world, and their work reflects an amalgam of styles," Dr. Slater said. "They have taken art courses, and they are in no way ignorant of who Picasso is, but at the same time they are drawn to traditional themes like the Mysterious Peacock and Lampião. l take a long view: their work remains immediate and deeply felt because the creative force and energy is still very much there."


---
Reprinted from the Austin American-Statesman
ENTERTAINMENT Wednesday, July 23, 1997 E7

Brazil's printmaker-poet
Folk artist with growing
international reputation
to have show, reception in Austin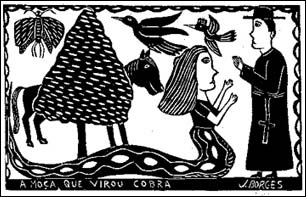 Jose Francisco Borges depicts country life in Brazil with a lyrical simplicity.

Jose Francisco Borges still carves all his own blocks and refuses to limit his editions. Playful barnyard animals are one of the artist's favorite subjects.

BY JOEL WEINSTEIN
Special to the American-Statesman

The rustic tableaux of Brazilian print maker Jose Francisco Borges—lively scenes of religious processions, lovers' quarrels, frolicsome barnyard animals—place him solidly among the most expressive narrative artists of the Americas.

Think of the mytho-tabloid outpourings of 19th-century Mexican master Jose Guadalupe Posada or the sweeping, raceconscious sagas of North American lithographer and painter Jacob Lawrence. Posada was more the historian, and Lawrence is a greater colorist, but Borges depicts country life in his homeland with a lyrical simplicity that makes for a nearly perfect vernacular.

Borges is 62, and he has spent his entire life in his impoverished, rural home province of Permanbuco in northeastern Brazil. As a boy and young man he was a laborer-farmworker, brickmaker and factory hand, but in his 20s he became enamored of a form of poetic folk narrative known as folheto or corder. These small, cheaply produced booklets of verse have been an immensely popular source for news, religious instruction, folk legends and fabulous knowledge of all kinds since the last century. It is by way of this tradition that Borges came to printmaking.

Literatura de corder (literature on a string) is so-called because the pamphlets are displayed at fairs hanging from a string. Like the lurid dime novels of the 1940s and '50s in the United States, the covers bear graphic, exaggerated depictions of the contents. In the mid.1960s, Borges set up a press to publish his own poetry and the works of his friends, making illustrations For the covers himself, and his little enterprise became hugely successful.

In the early 1970's his corder illustrations were noticed by prominent Brazilian visual artists, and Borges was hailed as one of the region's best engravers by an important cultural figure of the time, writer and playwright Ariano Saussano.

Borges' artistic range has expanded with the scope of his work. From tiny, simple one-color images to fit the 6-by-9 inch folheto covers, he now routinely makes bold woodcuts as large as 18-by-36 inches, sometimes of several colors. His themes still, center on the real and imaginary vicissitudes of ruraI poverty, but he larger format allows him the luxury of political commentary. Labels and other explanatory texts appear in the compositions, and he has undertaken far-flung projects such as posters and book illustrations.

His collaboration with Uruguayan Eduardo Galeano on the writer's recent book "Walking Words" has given the artist a wider international audience because of Galeano's stature.

Borges has also acquired an eye for more universal, decidedly urban foibles. He has produced a series of distinctly Borgesian zodiac symbols that are as much New-Age as peasant poor. Several of his latest prints depict individuals in psychoanalysis, with images of death, betrayal, impotence and demonic possession floating above the couchbound patient, while the bearded psicanalista ponders the constellation of troubles.

However, it is the formal richness of the figures—as neatly faceted and solid as the flagstones Borges once made as a laborer— as well as hints of modernity and urbanity in Borges' thinking that make the large prints so appealing. A frog under the dome of its umbrella, cane-cutters in a field, a large family fleeing from drought—these are deeply lyrical odes made of simple shapes and the gesture of black ink on white paper, consummately modest, yet powerful.

Borges will be in Austin Friday evening for a reception and an informal discussion of his work at Tesoros Trading Company, and the following day he will show 100 of his most recent prints at the store. According to Jonathan Williams, Tesoros' owner and a friend and sponsor of Borges, the printmaker-poet maintains the outlook of a folk artist from the Brazilian outback, in spite of his growing international reputation. He still carves all of his own blocks, and he refuses to number his prints or limit his editions, saying he will make as many prints as people want.

Williams is gratified that success has not spoiled Borges, but notes that adherence to the old ways has its problems. Williams has seen the woeful state of the prints that Posada made more than a century ago, and he worries about Borges' own production on less than archival-quality paper.

"The paper he uses is what he can get," Williams says, "and it's glorified butcher paper."