Fair Trade and Ethical Sourcing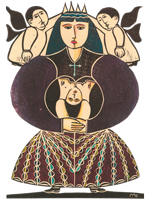 In addition to providing our customers with interesting hand made products and good customer service, we strive to create working relationships that are "win-win" for all involved. In our 25 year history, we have witnessed first-hand how our business has positively affected the lives of many: artisans, customers, employees, and local/international non-profits.

We believe we are fair traders because as we do business we strive to ethically source our products. We are not members of the Fair Trade Federation since we import from over 25 countries, we are too big to meet all of their qualifying parameters. But we fully support their core mission and as much as we can, we ourselves ask critical questions and we try to see personally where and how our products are made. As we finalize our orders, we make sure that the prices we pay are fair to the artisans/producers and ultimately, try to make sure that the retail price will be competitive and realistic.

We will continue to make every effort to be a conscientious business, where artisans, customers and employees feel that they are a part of a beneficial/effective circle of trade. We hope that the artisans feel that we are respectful and fair with them; that our customers feel that they are buying from a responsible wholesaler/retailer who is always trying to find high quality products that are out of the ordinary; that our employees feel that they are working for an ethical business that strives for goals beyond the "bottom-line", and that our participation with local and international non-profits makes a difference in the daily lives of others.